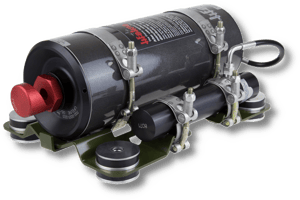 Born on the track proven in the field
Lifeline's range of Vehicle Fire Suppression Systems are effective, easy to install and designed to withstand the harshest environments.
Lifeline military systems represent the result of 20 years of development in motorsport from a company whose products are used to protect occupants and vehicles in every global category of the sport from club racer through touring cars, endurance, F1 and rally racing. The core motorsport drivers of high performance, lightweight and speed are embedded into every area of everything we do. To us a military vehicle is as much a performance vehicle as a Le Mans prototype, WRC or F1 car; the only difference is size. Our system will begin discharging almost instantaneously after a fire is detected and will typically have a fire out in less than 2 seconds. All in system weight can be reduced to as little as 8kg. We have transferred all that we've learnt in motorsport into our military systems, developed it further and ruggedized it for increased durability. What we've learnt from the military is now being transferred back to motorsport. We believe we have the best tested, fastest and most effective multi-occupant vehicle fire suppression system available globally.
We remain a motorsport company that provides products to the military. We have built our reputation not only on the performance of our products, but on our attitude to problem solving, flexibility, honesty and willingness to take on what others will not.
Our system and work ethic is so significantly more effective than others that it received a BAE Chairman's award for the Warrior UOR project.