Market Leaders in Motorsport Fire Suppression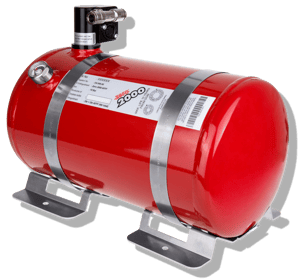 The first generation of Motorsport fire extinguisher systems produced by Lifeline were manufactured using Halon 1211 as the extinguishing agent; however, due to environmental pressures the manufacture of Halon ceased under the Montreal Protocol. Lifeline took the pioneering route of introducing a lightweight, foam based extinguishant Zero 2000.
Zero 2000 systems quickly became the default choice for competitors but Lifeline did not stop its research and development program there. Ultimately this brought us to a new smaller and lighter range of Motorsport extinguishers which were branded as Zero 360. The name relates directly to the panoramic qualities of the gas discharge which, due in main to our unique nozzle design gives a fire smothering gas cloud seeking out and suppressing fire in the hidden engine bay corners. Manufactured by 3M™ we use Novec™ 1230 in our Zero 360 range.
The latest FIA standard for Plumbed in Fire Suppression systems, 8865:2015 is a great step in both driver and vehicle safety requirements. Using a combination of 3M® Novec 1230™ and an AR-AFFF blend our Zero 3620 systems ensure fires are knocked down and controlled preventing re-ignition. For 2019 the new Zero 275 extracts all the performance available form this standard, lighter, faster and more compact the Zero 275 is one of the worlds most advanced fire suppression systems.
If you have any questions check the FAQs page here, find your local Lifeline Dealer here, or follow the links below.
For anything else