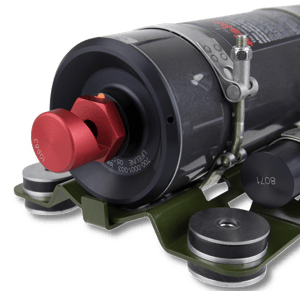 Lifeline's High performance range of Fire Suppression Systems
Lifeline's continuous commitment to research and development ensures that we can supply the most innovative and cutting edge products available. These same products are used by the majority of the world's motor sport championship-winning drivers, teams and constructors – a stringent, proven test for the defence industry.
Lifeline's Zero 360 systems are the result of over 5 years of intensive research and development using 3M Novec 1230 environmentally friendly liquified gas extinguishant. Already in use by many world championship motor racing teams and constructors Zero 360 is the racer's number one choice – an unparalleled test. By using Lifeline's Compression Discharge technology superior results are assured over standard stored pressure systems.
This is because only pure undiluted extinguishing agent is deployed, unlike others that are saturated with Nitrogen thereby reducing efficiency of the agent.
Lifeline now offers a comprehensive range of fire suppression systems using gas, foam or powder extinguishing agents for all kinds of transportation such as armoured vehicles, boats, buses and trains. Systems can also be supplied for the protection of machinery and any other enclosed space that requires fire protection.